Posted by Chickenstricken on Jul 4th 2020
Healthy eating can be a drag sometimes. I find myself standing in the kitchen staring at the fruit or the veggies in the fridge, and I am just not feeling it. Cucumber slices or tomatoes, grapes, apples, bananas - nah. And as much as the kids love a veggie tray with ranch, after a few repeats of providing those, I can tell by the lack of veggies disappearing that they feel the same way.
So I decided to search the mighty Interweb for Ideas - Pinterest is especially great for this - and found a ton of neat looking ideas to brighten up our snack time. And since my entire family is as Chicken obsessed as I am (well, maybe the hubby needs some convincing every now and then when I start a new breeding project and pens need to be built...), nothing better than a healthy treat looking like a Chicken! I have gathered of few of the most interesting ones below, keeping in mind that nobody wants to run around buying a ton of fancy ingredients that they use half once and then never need again, as is the case with most fancy recipes. Nope, the ideas below keep it simple and quick, even better, all the leftovers can just be tossed in a blender to make a delicious smoothie. Or chop the fruit up into yoghurt and have another healthy snack .
From Parents.com comes this cute idea: an apple ring as a base, pineapple pieces as feathers, blueberry eyes and a beek and feet cut from a dried apricot. A strawberry comb completes the picture. It's as adorable as it is healthy, you can even alternate the base with crackers and make miniature versions.
Or cut a piece of bread round and make the base cheese, with grape feathers. Once you tried it you will come up with all sorts of different versions of this "yummy chick", from hearty to sweet. It is quick, delicious, and gets kids and adults alike to actually eat the fruit and veggie serving they should.
Another one is hard boiled egg chicks. Check out the video by Tastemade. Simple, quick and delicous! And a great way to use up some of that overflowing egg supply you have clogging up the fridge around because your backyard flock is waaaaay bigger than the original four little hens you started out with - come on, you can admit that I am right...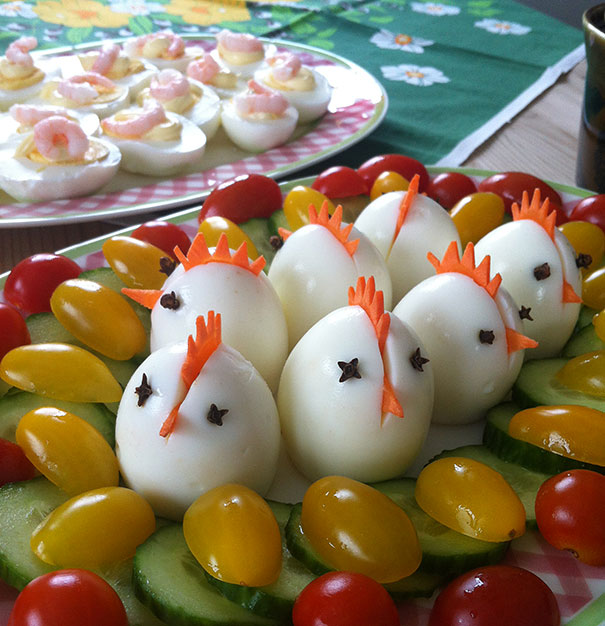 Boredpanda.com has some similar ideas for you to try, there is an entire page dedicated to Easter themed snacks, with many of them as simple as this tray of hard boiled eggs, decorated with carrots and cloves, surrounded by hearty veggies. You could alternate that with fruit or little sausage slices, decorated with mayo or mustard. Or crisp up some bacon and layer around the eggs. Wait - I started out talking about healthy snacks. Well, you could always make it turkey bacon, which is delicious and way healthier than traditional bacon.
A great and simple way is also to just use a Hen, Chick, or Rooster shaped cookie cutter (you can buy one right in our shop) to make the traditional "Egg in a basket" look a little more interesting and fun. You can use the cutout shape to add a little bantam egg, too. Or put butter and jelly on it, either way, your family will look forward to Sunday brunch.