Posted by Chickenstricken on Feb 27th 2022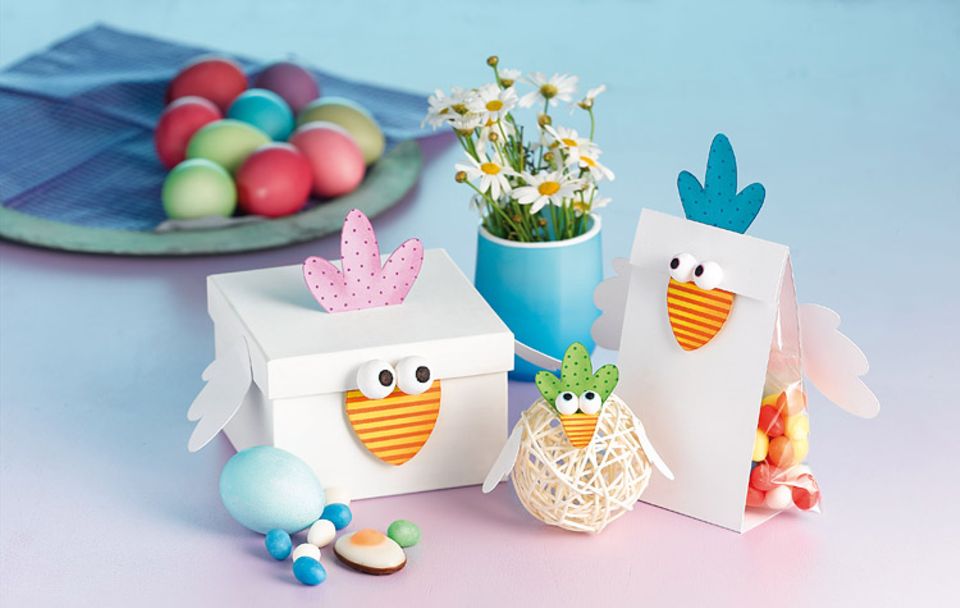 © frechverlag_TOPP
To make these super easy, cute and practical Chicken Decorations you will need:
Cardboard Boxes with Lid in White, natural or color of your choice, we used a 4x6" box
Construction Paper in yellow, lavender and green or color of your choice
2 firm Cotton Balls, Styrofoam balls cut in half or Googly Eyes per Decoration
our Chicken Wings, Beak and Comb pattern to print here

Acrylic Paints and Paintbrush as needed
small Balloons, Sisal or Jute String, Modge Podge glue for the round Chicken
Here is how easy it is:
Print out the Chicken Patterns
Color the beak, the comb and the wings. We put dots on our combs and stripes on our beaks, but feel free to add your own creative colors and patterns.
For the box, fold the comb on the line, cut a slit in the middle of the box and stick the comb trough. Glue the folded part on the inside of the lid, then glue the beak to the inside of the lid.
Add your choice of eyes - when using styrofoam balls, cut in half and use hot glue to glue to the lid, use marker to add the black pupils
Add the wings on the sides, make sure to glue to the rim of the lid, or if it works better or your box is taller, you can also glue them directly to the sides.
For the triangular bag, fold the bottom on the lines. Then fold the "latch". Glue the beak to the inside of the latch, attach the eyes on the outside as seen in the picture. Stick on wings if desired. You can either staple a bag of candy to the latch or hot glue it to the bottom of the bag.
For the Round Chicken:
You can use a ready made yarn or Sisal Ball Decoration, or use any round object for that matter. Simple size the comb, wing and beak pattern to fit and attach to your round object. To make your own Sisal Ball, blow up a small Balloon (the ones used for Water Bombs work best) to the desired size. Run sisal or Jute string through Modge Podge or Elmers clue, soak it completely. Carefully wrap around the balloon, squeezing it into a round shape as you start wrapping. This is easiest done in sections, letting the string dry and set in between. Once you wrapped the balloon and your string dried and hardened completely, pop the balloon and carefully pull out through an opening. Now attach you comb, wings and beak. You can set this chicken on the table or tie a string to it and hang it.