Posted by Chickenstricken on Nov 26th 2019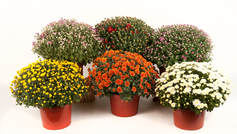 The weather cools, the leaves start turning and the days get shorter. We start thinking about cleaning up the yard from the annuals that are starting to fade and decorating for Halloween and Thanksgiving. As the summer flowers start to fade the first evergreen Fall Bloomers start showing their colors, such as Camellia Bushes, Rhododendron and Beautyberries. But nothing says fall quite like the Chrysanthemum, lovingly called "Mum" by most Gardeners. Since they require short days and long nights to bloom fall is just their thing.
---

Most people are unaware that there is basically three varieties of Mums - the early bloomer, which usually starts hitting the stores as soon as September, since they start showing buds as early as end of July, the mid-season bloomers, which start showing their buds in September and bloom September through end of October, and the late bloomers, which in temperate climates such as ours can bloom way into November.

Chrysanthemums can have single, large daisy like flowers, while others bloom with semi double or double flowers, where each flower is actually a cluster of tiny flower florets. These clusters are called "heads". These flower heads can bloom in many colors, ranging from yellow, bronze, purple, pink, white and red to deep lavender or orange.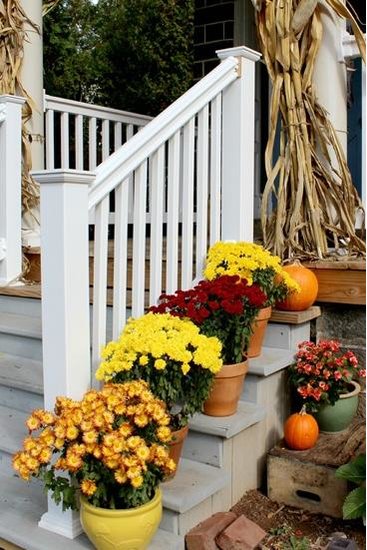 A lot of people like to create fall decorations with Mum Planters, using them to set on top of straw bales together with Pumpkins, or decorate the steps to their house or front porch, leaving them potted in the container they purchased them. This is fine if you simply want to enjoy your Mum for their beautiful color a couple of weeks or months. Pinching the dead flowers off and watering the pot regularly will ensure that your plant will last almost the entire fall season.

Most Mums are actually root bound once they hit the stores. What that means is that their roots have grown so big that they fill out almost the entire pot. This makes for a very thirsty plant that needs a daily, thorough soaking to keep it alive! However, if you would like to enjoy your Mum regrowing and blooming year after year, then you should plant them in the ground as soon as you can. Planting them early in the season means that their root system has enough time to grab hold in the ground, ensuring that they survive the winter.
If you bought a late blooming variety - because you simply like those better - you can still get them in the ground before the first frost, but they may need some added protection for their roots by spreading lots of mulch or straw around the base of the plant.
Personally, I have planted all my Mums that I have ever bought, and enjoy each one of them coming back year after year (if they chickens haven't eaten them...), adding that much awaited Fall Feeling and color to our yard.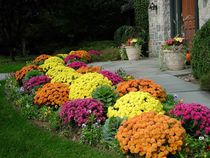 If you want to give it a try this year or just want to decorate with lovely planters full of different colored Mums, pick up yours at Southern Charmers Country Store in Statesville, where we offer standard 8"sizes, mixed planters or Mums in huge 24" deluxe sizes. If you need a large quantity to plant or decorate for an event give us a call or contact us, or let Debbie know in the store. We can deliver, too.
---
Click on the image gallery below for links to some websites with some really creative, unique decorating ideas.